Description
SIZZLING KNIFE STONES
(PRODUCT)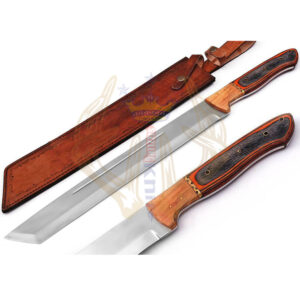 THIS IS A BEST QUALITY CUSTOM HAND MADE STAINLESS STEEL FULL TANG HUNTING KNIFE.

These unique superb design FULL TANG are fully  HAND MADE KNIFE are a piece of Craftsmanship and Exotic material, Blade of the knives are hand forged with Stainless steel, with Nickle layer. Blade has been given excellent heat treatment to get a 56 to 60 HRC.
SIZE& MEASUREMENT: 
OVERALL LENGTH IS 25.00 INCHES
BLADE LENGTH IS 18.00 INCHES
HANDLE LENGTH IS 7.0 INCHES
BLADE THICKNESS IS 4.00 mm Approx
PAYMENT:
PayPal, Payoneer, MasterCard, Western Union
DISPATCH TIME:
1 TO 3 Days after receiving your Payment
COURIER / SHIPPING: 
We use DHL which is very fast and traceable. Although we pay by weight to Courier for all our deliveries.
AGE RESTRICTION:
We don't sell knives to any one who is under age 18
YOU WILL NOT FIND A BETTER QUALITY HANDMADE KNIFE, ANYWHERE, FOR THE PRICE
.
GUARANTEE:
If you are happy with your purchase, we offer you a peace of mind guarantee if you return the product within 7 working days. We will refund your money back immediately on receiving the knife back in original condition.
PLEASE NOTE THAT:-
AND IF YOU LIKE OUR MANUFACTURING, THAN PLEASE GIVE US A ++POSITIVE FEEDBACK FOR OUR MOTIVATION!
1. NEVER STORE YOUR KNIFE FOR LONG TIME IN LEATHER SHEATH.

2. LEATHER CAN ABSORB WATER, WHICH WILL RUST THE KNIFE.

3. ALWAYS CLEAN THE BLADE AFTER USING WITH OIL OR WAX.